Best Mask – The World Health Organization said that the corona virus primarily spreads through the transmission of respiratory droplets from infected people. New information showed that protective masks could be a barrier for potentially infectious droplets. Director General Mr. Tedros Adhanom Ghebreyesus of the WHO said that new evidence shows the need to make protective masks compulsory. World Health Organization advises governments to encourage the general public to wear masks where there is widespread Covid-19 transmission and physical distancing is difficult, such as on public transport, in shops or in other confined or crowded environments. Also said that high-risk groups should wear medical grade masks in cases where physical distancing is not possible.
Some Best Mask
Here we are highlighting some latest / best masks for using in daily life. The masks will protect from polutions and virus.
Product description
Designed to offer protection while breathing, this 3 Ply Face Mask helps filter out pollutants, chemicals, dust, and microbes from the air as they may cause spread of infection, germs etc. The mask is unisex and is made from good quality inner and outer Non-Woven material.
Bacterial Filtration Effiency(BFE) ≥ 98.5%,Particle Filtration Effiency (PEE) ≥94%
Mask Has 3 Layer Outer, Middle and Inner || Outer Layer is Water Resistant Layer Which Helps to Block Outside Droplet || Middle Layer is Filtration Layer Which Block Germs, Bacteria, Pollution, Dust etc || Inner Layer is Skin Friendly Layer Which Observe Inside Moisture
Mask Has Inside NOSE PIN || An Ultra Stretchable Elastic So Mask Can be Used For Long Time Without Hurting Your Ears Which Gives More Comfortable.
Mask Can be Used For Outdoor Walk, Travel & Commute, Biking, Cycling Police, Traffic, Security & Delivery Personnel, School etc
ASGARD is a registered TRADEMARK of ASGARD INDIA.All Rights Reserved

This is a N95 headloop type mask, its an Indian product and made by an ISO certified company. Made with nonwoven type febric materials, whitr colour. These type of mask are some comfortable for long time users.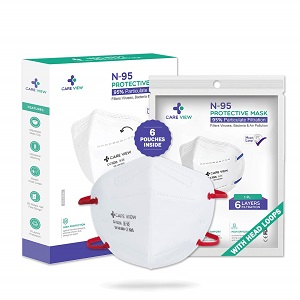 GMP Certified Company, ISO 9001:2015, ISO 13485:2016, EN 149: 2001 + A1 : 2009
High Protection: High Protection against harmful pathogens, airborne irritants, dust, allergies and pollen
High Comfort: High Comfort with breathing fabric, flexible ear loops and easy fit nose clip.
High Efficiency : High Efficiency by close facial fit with a strong seal around the nose and mouth
Designed in France and Made In India Product Specifications


Product Description
Bodyguard N95 PM 2.5 mask is specially designed to protect you from probable respiratory ailments and allergies originating from the polluted air in the cities. It protects you from the common allergens like pollen, dust and air borne microbes in the environment. The Mask easily filters PM2.5 and provides a fresh ventilation system that keeps you to breathe easily. It can be used at any place like office, workplace, home, outside etc. The washable/reusable masks features an adjustable nose clip pin that can be pressed to counter the specific design of your nose for a snug fitting. The N95 face mask is designed to wear comfortably for all so that the wearers can expand the masks to cover their nose, mouth and chin. It comes with very soft rounded ear loops, making them quite comfortable to wear.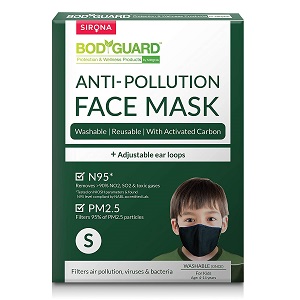 N95 Grade Mask, Activated Carbon, Filters PM2.5 particles
Washable/Reusable & comfort for long time usage
BodyGuard Mask with 5 layers filtration, Nose Clip for the better fit
Protects from Dust, Bad Odor, VOCs & other Atmospheric Pollutants.
BodyGuard Mask Suitable for Kids.
Melt Blown Fabric Used: No.
Mounting Type: Ear Mount.
Material : Polyester cotton


Product Description
Juniper N95 9050 is a high filtration respiratory mask with comfortable breathability. The 9050 Mask has soft and firm latex free elastic ear bands for comfort, and a malleable nose clip for perfect fit. The Juniper N95 9050 Respiratory Mask consists of multiple layers of filtration that make it ideal for healthcare workers as well as general public for use in workplaces or being out and about.
Anti Pollution & Anti Bacterial Mask
Filtration efficiency > 95% of PM 2.5 (0.3 microns)
Flat fold style mask for ease of use and storing
Comfortable ear bands, adjustable nose clip, Lightweight mask for sustained wear ability
EN 149:2001 + A1.2009 (European Std. Certified), CE & ISO marked


Product description
Mush N95 masks are carefully made with 6 layers to provide maximum protection. The mask provides 95% filtration efficiency by eliminating dust, smog, ash, bacteria and other microscopic particles. The soft fabric along with a nose pin & flexible ear loop ensures comfort while providing protection.
NIOSH Compliant & , FDA, CE, ISO, NABL, WHO, SITRA Certified
N95 FACE MASK: Mush presents certified N95 fiber-based skin friendly mask that offers particulate matter filtration for protection from bacteria microorganisms, body fluids and dust to help you breathe easier and stay germ-free in various indoor & outdoor places.
ONE SIZE FITS MOST: Its stretchable earloop straps can be adjusted to meet the most head sizes while assurance that it won't hurt your ears or nose during extended hours of wearing. Ideal for wearing by men, women & adolescents alike.
ADJUSTABLE NOSE CLIP: The offered N95 face protection mask features an adjustable nose clip pin that can be pressed to counter the specific design of your nose for a snug fitting. Besides, it has dual elastic ear loops for a comfortable grip and maximum facial mobility.

Product Description
Genuine, 5 layered N95 mask which not only protect you against viruses, bacteria and pollutants but it is breatheble too. Promisca N95 mask is tested successfully for filtration efficiency under strict guidelines at DRDE (Ministry of Defense, Govt Of India) vide test report dated 10-09-2020. Bureau of Indian Standards (BIS), Government of India has certified Promisca N95 mask with ISI certification basis on detailed tests done at their laboratory for govt. supplies vide license number 9512449420 dated 24-09-2020.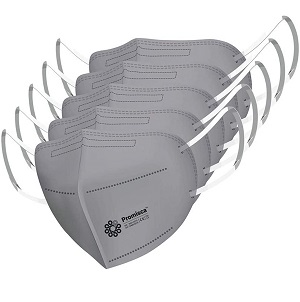 Care Instructions: Disposable
DRDE, CE Certified, ISO 9001:2015, ISO 13485:2016, BIS certified for govt. supplies. Mask is available in 3 Sizes Regular, Medium and Small.
Material: Our 5-ply Face Mask consist of Outermost Layer of Virgin quality Hydrophobic coated Nonwoven fabric, Inner Layers of genuine Meltblown fabric to give 95%+ filtration, Hot Air Cotton which keeps the Mask odourless and provides better breathability, Innermost Layer of Skin friendly, soft virgin quality Hydrophillic coated non-woven fabric.
This 5 layers Face Mask also provides best protection against dust, PM2.5 suspended particulates, and other environmental hazards.
Ergonomic Design – Light weight, comfortable, durable & stretchable straps with dual point attachments, ensuring reliable protection. High-quality elastic ear bands are comfortable to wear.
Premium Quality – Ultrasonic sealing of straps, In-built nose pin which enables Snug fitting, Advanced skin-friendly non-woven, hot air cotton and melt-blown fabric, 3 D breathing space provides easy breathing for long hours and high efficiency in filtering out particles. MADE IN INDIA.

Some best others Safety items for covid 19
1.FACE SHIELD – Standerd Face Shield, Perfect Face Shield.
2. GLOVES –Examination Gloves, Disposable Gloves, Reusable Rubber Gloves
3. HAIR CAPS – Surgical Disposable Caps, Cotton Reusable Caps.
4. SANITIZER – Hand Sanitizer, Disinfectant Spray.
VISIT FOR MORE… – Techtrow.com

All the above listed products are very good for our health and certified by the legal authorities. You can buy any one without any confussion from our listed products and stay safe.
Techtrow…