Best Keyboards Piyano – We are now standing in a very modernised, technologic and advanced form of earth. We are facing with fear due to the pandemic reason. In this situation singing, dancing or play music is a great solution. I will always suggest you to accept the situation and try to live a simple life.
I play keyboard once or twice daily, you may also spent your time with this best keyboard or synthesizer. It is perfect thing to keep yourself engaged in your bad timings. Music is such a way that will take you to a new world of happiness.
You can concentrate on your work and studies. It is mainly a big medicine for teenagers when they are facing peer pressure. And those who would like to go with music in your future as a profession, there are also some learning keyboards for you.
3 best keyboards chosen by us:-
Versatile functions and an expressive touch-sensitive keyboard action make the PSR-E363 the go-to instrument for beginning players. Yamaha has a proud history of manufacturing just about every kind of musical instrument. When it comes to reproducing the sound of these instruments in a keyboard, the results are detailed and high-quality. One of the best keyboards for beginners.
Features-
The PSR-E363 is an ideal portable keyboard for beginners and hobbyists
Touch sensitive keys, on-board lessons, computer and mobile device connectivity and much more
Yamaha education suite (Y.E.S.) Allows you to practice using the preset songs (or MIDI files on compatible instruments) at your own pace, one hand at a time or both together and USB to host connectivity with MIDI and audio transfer means you only need one cable to connect to your music-making software
Compatibility : GM/XGlite and Tone Generating Technology : AWM Stereo Sampling
Free power adapter inside the box, note: Yamaha product is warranted against faulty design, workmanship or materials for a period of 36 months for portable keyboards (PSR- S, E, F and I series)from the date of Purchase
Adaptor is packed under the thermocol packing inside the keyboard box


Weighing less than 3.3. KGs, the keyboard is extremely portable. The hand grip at the centre makes carrying very easy. Just pop in 6 AA batteries and you're good to go. The minimalistic and clutter-free layout along with the display screen makes Navigation extremely easy. One of the best keyboards for beginners with Pitch-Bend wheel.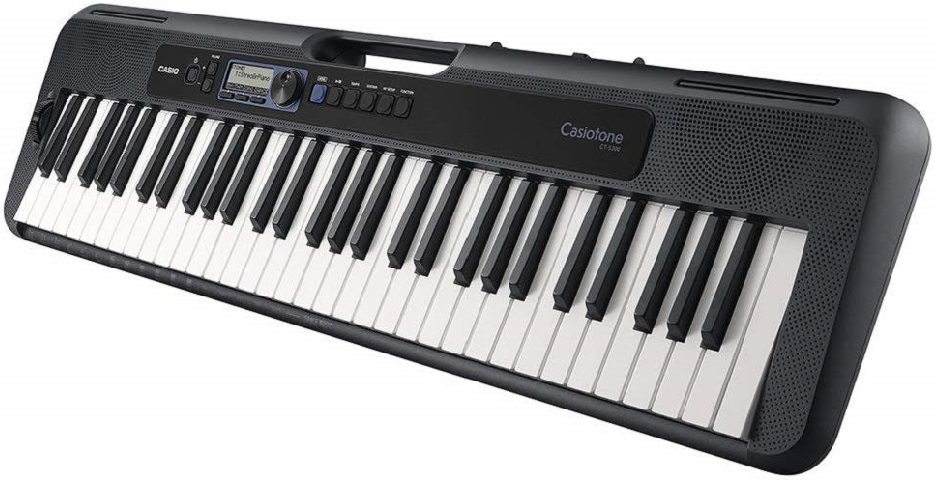 Features-
A Beginner's Slim & Stylish Keyboard with 61 Piano Style Touch Sensitive Keys & Pitch-Bend wheel
Incredibly easy to use with its big & clear LCD display & intuitive controls
Compatible with Casio's Mobile Application "Chordana Play" which helps you learn all your favourite songs. Just download and import the MIDI file into the app & connect your phone to the Keyboard with an USB Cable. Chordana Play makes learning fun & easy.
Equipped with 400 Tones & 77 Rhythms, the CT-S200 is an extremely versatile instrument with 13 Indian Tones & 14 Indian Rhythms
Register your favourite settings to easily recall tones and rhythms with the "My Setup" button
Jam & Create your own musical composition by using the Dance Music Mode & add further effects
CT-S 300 comes with a free adaptor (LAD-6) & can also be operated using batteries
The built-in 2.5W+2.5W speakers gives an ample amount of sound output for practicing
The class- compliant MIDI port (USB to Host: Micro-b) connects to any Mac/PC/iOS/Android device with no drivers needed.


The PSR-F51 is incredibly easy to use with its color-coded, intuitive control panel. Simply select a voice, choose a rhythm and start. It's as simple as 1, 2, 3! With the combination of 2.5W + 2.5W amplifiers and high-quality Yamaha Voices, you can enjoy powerful and realistic sound when performing in a wide variety of different situations.

Features-
A starter keyboard for anyone who wants to enjoy playing music
Incredibly easy to use with its color-coded, intuitive control panel
Simply select a voice, choose a rhythm and start – it's as simple as 1-2-3
With 120 voices and 114 styles, it is amazingly versatile
The built-in metronome allows players to hone their sense of rhythm while practicing
The PSR-F51 can be operated using batteries instead of an AC adaptor. It requires six 1.5-V AA size batteries, which can be either rechargeable (1.2V Ni-MH rechargeable batteries or equivalent) or non-rechargeable.

Conclusion of Best Keyboard Piyano
Recommend the PSR-E363 is an ideal portable keyboard for beginners and hobbyists.